---
Land Grading Services
Grading plays a crucial role in maintaining an aesthetically pleasing lawn and preventing water damage to your home's foundation. If you have standing water on your property or water flowing towards your home, you may need to re-grade the land for proper drainage. Because we are experienced and have our own equipment, we specialize in providing the proper grades to resolve these problems and create the desired slope, level and shape for your lawn.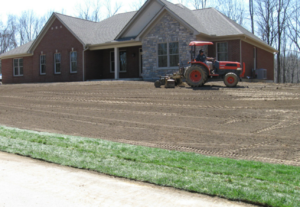 Grading services include:
• Basic labor to grade landscaping with favorable site conditions
• Stake location to be graded
• Grade soil and remove rocks to final grade
• Dirt and debris removal
• Planning
• Equipment and material
• Preparation and protection
• Setup and cleanup
FAQs
1. When do I Need Land Grading?
The main reasons grading should be done to the land is if water is not draining away from your home, plan to lay new sod or seed, if you are building a structure, creating new landscape elements, or have slopes you want to smooth out.
2. What Are the Benefits of Grading?
Grading can improve drainage to prevent flooding and structural damage to your home; create a more aesthetically pleasing yard; prepare for decks, patios, and driveways; and create a seamless transition from new to current sod.
3. How Much of my Property Requires Grading?
The amount of grading needed depends on the project. Correcting drainage issues may only require work on one or two sides of your house, while preparing for a new sod may involve a larger portion of your yard. All grading jobs require relocating some material (rocks, debris, dirt).
---
---